It's Microsoft Ignite this week (Sun, 3 Nov 2019 – Thu, 7 Nov 2019) with tons of announcements . One of the key announcements around ConfigMgr/Intune area is Microsoft Endpoint Manager (MEM) and licensing for intune.
Microsoft Endpoint Manager (MEM) is an integrated solution for managing all of your devices. Microsoft brings together Configuration Manager and Intune, without a complex migration, and with simplified licensing. Continue to leverage your existing Configuration Manager investments, while taking advantage of the power of the Microsoft cloud at your own pace.
The following Microsoft management solutions are all now part of the Microsoft Endpoint Manager brand:
For more information about Microsoft Endpoint Manager , please refer https://www.microsoft.com/en-us/microsoft-365/blog/2019/11/04/use-the-power-of-cloud-intelligence-to-simplify-and-accelerate-it-and-the-move-to-a-modern-workplace/
and if you own ConfigMgr ,you now automatically have Intune licenses for co-managing Windows devices. Does this cover Azure AD Premium license ? No ,you still need to purchase it separately .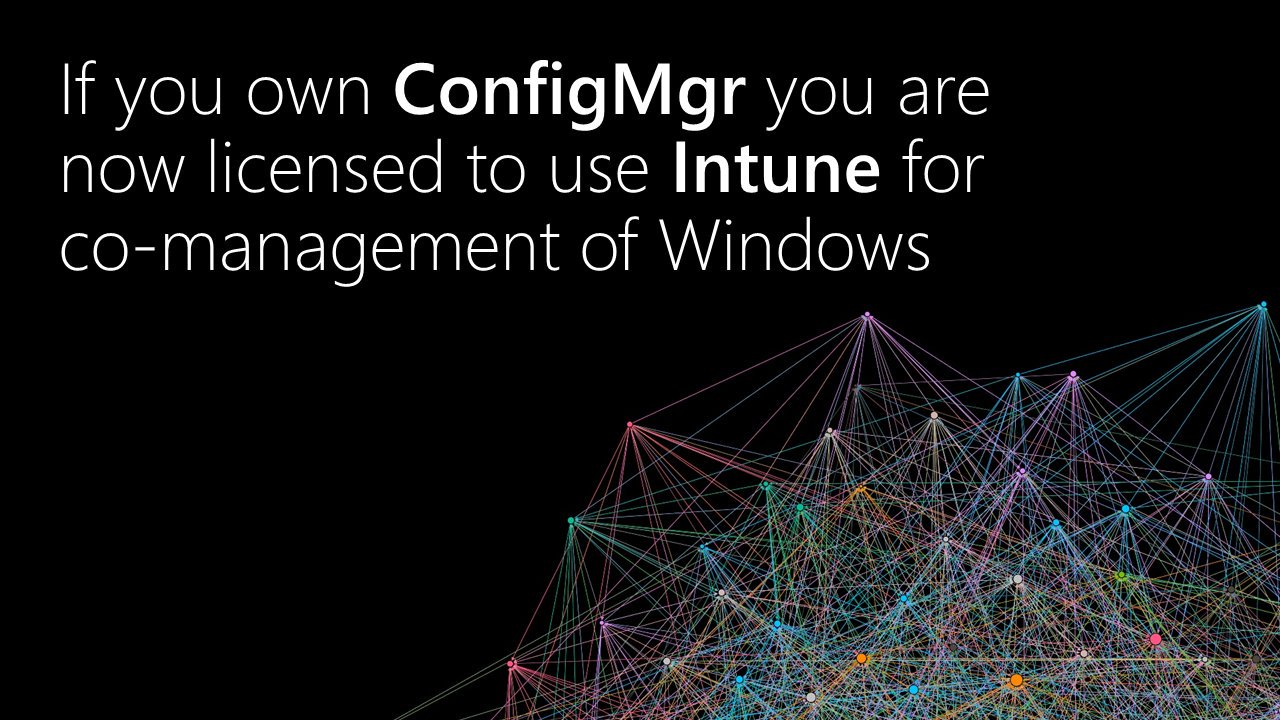 Configuration Manager technical preview version 1911 version released early for this month and is available as both an in-console update and as a new baseline version.
if you want to see this update in the SCCM console using updates and servicing, you must be running atleast 1908 and above (three successive versions are available) .
If you want to setup new lab ,then you can Download a baseline version from the TechNet Evaluation Center.
There is not much new features with this preview version but as we talked above, MEM (MEMCM) is biggest news and is now part of MEM and not System center (SC).
The only new feature that is added with this preview release is: Microsoft Connected Cache support for Intune Win32 apps
When you enable Microsoft Connected Cache on your Configuration Manager distribution points, they can now serve Microsoft Intune Win32 apps to co-managed clients.
Before you start updating or installing new SCCM preview lab ,please go through https://docs.microsoft.com/en-us/configmgr/core/get-started/technical-preview
To update 1911 using in-console updates, go-to administration ,updates and servicing ,click on check for updates.
Logs to check for the backend process: Hman.log ,dmpdownloader.log
Once the updates are synced,you will see it in the console and ready to install.
Now right click on the update and select install update pack.
Logs to check: ConfigMgrSetup.log (root of the windows drive) & CMUpdate.log
Now monitor the status using logs and also from the console:
Console:\Monitoring\Overview\Updates and Servicing Status
Logs to check: Logs to check: ConfigMgrSetup.log (root of the windows drive) & CMUpdate.log
Once the installation is completed ,you will be prompted to install new version of admin console.
Microsoft Endpoint Configuration Manager 1911 Tech Preview installation completed.
Before the preview update:
After the preview update:
And from programs and features ,the display name for ConfigMgr console appear as 'Microsoft Endpoint Configuration Manager Console '
Once these changes (MEM) goes into production ,then you should alter your collections that have sccm console installed with the above name. This is because the old name appear in programs and features is not same as with MEMCM.
SCCM console version:5.1910.1060.1000
SCCM client version:5.00.8909.1000
How to enable Cache support for Intune Win32 apps :
Happy learning!